The Soemtron ETR221 Calculator
Skip to navigation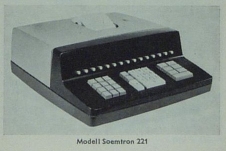 Age related stress fractures


Click any image for a larger version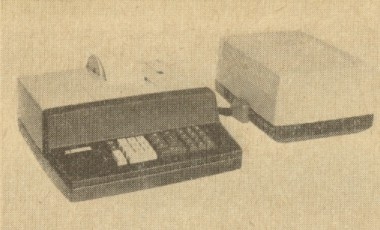 Soemtron ETR221
Photos ©2009

Serge Devidts
After some research by Bernard Green and ourselves, about the existence of an ETR221 desktop calculator[1] unit, an email from Serge Devidts has confirmed that at some time in the past there was a two part ETR221. Bernard had suggested the existence of just such a machine having stated that he recollected seeing a two part unit shipped into the UK whilst he was at Office and Electronic Machines Ltd. (OEM Ltd.)[2] in London.
Bernard describes the two parts of the 221 machine as being -
Desktop unit with keyboard and printer,
connected by an umbilical cable to the main electronics section.
So far the only references to the 221 we can find is a vague picture in the Büromaschinen Lexikon for 1967-68 (Click "Soemtron"), and these faint photos (right) that Serge has sent to us.
Top picture - Desktop unit with keyboard and printer.
Bottom picture - Keyboard and printer connected by an umbilical to an electronics box.
In an email from Rüdiger Kurth he gave us this information about the 221 - "The main difference between the Soemtron 221 and the Soemtron ETR224 is the double speed printing system and of course the new cover. The Soemtron 221 apparently was not a prototype, but a production unit with only a very few being produced (<10?), the production line was then changed over to Soemtron ETR224".
At this time we assume that no examples of the Soemtron ETR221 two part unit remain in the wild, but then we also thought that about the ETR224 - did we not? We have found that very little information, if any at all, exists about the Soemtron ETR221 other than a couple of photos we have found so far and a few peoples vague recollections of the machine, no technical information appears to have survived. We know of only one Soemtron 221 ever being seen outside of V.E.B. Büromaschinenwerk Sömmerda, that being one apparently delivered to Office and Electronic Machines Ltd. (OEM Ltd.) in London. For whatever reason the Soemtron 221 (a concept?) machine would then seem to have been redesigned into the bulkier ETR224 production unit, a pity as the original 221 looks much more stylish than the ETR224.

If you have any further historical information, circuits, drawings, photographs, data or manuals about the Soemtron ETR220, 221, 222, ETR224 or their manufacture, test equipment (Prüfgeräte) or you just know more about the Soemtron companies in general then please let us know, contact us.
---
August 2011 – An email from another of our contributors Rocco Thiel has turned up two Soemtron brochures from the 1960's, one for the ETR220 and one for the ETR221. The ETR221 brochure is especially welcome as we thought that publicity information about this machine did not exist. The 221 brochure is available for download, the ETR220 brochure can also be viewed.
January 2011 – Following one of our regular web searches during late December 2010 for anything Soemtron related, we found on Ebay a German language book from 1969 entitled "Programmgesteuerte Rechenautoaten" (Program controlled computers) as listing in its contents the Soemtron ETR220 "und" 221. With shipping arranged we eagerly awaited delivery - it finally arrived several weeks later after delays in the post from the exceptionally bad weather here in the UK.
We looked and searched and looked again, in the -

Inhaltsverzeichnis

- Table of contents - nothing!

Auswahl von Rechenzentren der DDR

- List of Computing Centres of the GDR - nothing!

Literaturverzeichnis

- Bibliography - nothing!

Sachwort und Namen Verzeichnis

- Special word and name listing - nothing!
Eventually after going through the whole book page by page we found two small photos on pages 99 & 100, with one of those being the same (lower photo above) as sent in by Serge! The photos were labelled - "Bild 22 zeigt den elektronischen Tischrechner Soemtron ETR220 mit optischer Ergebnisanzeige, Bild 23 den Typ Soemtron 221 mit Kontrollstreifendrucker", which translates to - "Fig. 22 shows the electronic desk calculator Soemtron ETR220 with optical result indicator, fig. 23 the type Soemtron 221 with impact printer control". (Scans of the photos to come soon).
September 2010 – An email from Bernard Green has passed on some 221 sales literature he received from VDI Verlag, Düsseldorf. They have forwarded an extract from the VDI-Z Association of German Engineers magazine, volume 108 (July 1966), page 944. In the very small entry (without a photo) for the 221 it states (translated) - "Computer Soemtron ETR221 - The desk calculator Soemtron ETR221 is an extension of the type ETR220 with a printing element. In their functions however both models are identical". picture (©2010 VDI Verlag, Düsseldorf).
---
1
Desk top calculator calculator.
Tischrechner, rechenmaschine.[top]
2
OEM Ltd.

Office and Electronic Machines Ltd.

, 140-154, Borough High Street, London, SE1 1LH. Marketing company for mechanical desk calculators.

"Distributors for the United Kingdom and Republic of Ireland of Adler, Triumph, and Imperial typewriters, calculators, invoicing, accounting, word processing machines, and other office equipment and machines."

(Text from an advert placed by OEM Ltd, in the Glasgow Herald of the 11th June 1973 which gives their results and prospects for 1973-4.

They were also known at various times as - Office and Electronic Machines PLC., O.E.M. (Systems Furniture) Ltd. (#01396792), O.E.M. Orion Ltd. (#01666907), O.E.M. Orion (#1179756). They appeared to have petitioned for the winding up of several other companies as their creditors in 1979 (entry #246) and 1982 (entry #173)[back] [top]
---
Site design ©2007– soemtron.org - privacy -