soemtron.org - Timeline
Skip to navigation
---
December 2016 – Copies of three engineering manuals for the ETR220 have recently been received from Germany.
---
August 2014 – There has been a dearth of news for the Soemtron website for some time now as other things in life needed a little attention. So to catch up -
Our main line of progress has been on the ETR224 and to update the website to current HTML5 spec where possible.
We have essentially completed the mechanical re–building of the ETR224 printer mechanism to the extent that it works reasonably well when manually triggered, but some re–alignment is needed to the print wheels and their rest position. Work in the last six months has concentrated on decoding the circuitry of the twelve electronics boards in the card cage, to the extent that we now have a full, but unchecked circuit for the ETR224. Currently we are working to resolve the temporary signal names (TMP–xxx) that were used in the circuit tracing and to find solutions for the problems in the ETR224 snagging list. For further details see the ETR224 page.
---
August 2011 – An email from another of our contributors Rocco Thiel has turned up two Soemtron brochures from the 1960's, one for the ETR220 and one for the ETR221. The ETR221 brochure is especially welcome as we thought that publicity information about this machine did not exist. Each brochure can be found on their respective machine pages, or here 220, and here 221.
---

©2011 Rüdiger Kurth
Click image for a larger version
May 2011 – Another ETR224 found. In an email to Bernard Green, Rüdiger Kurth another of our contributors, has written to say that he has found another Soemtron ETR224 machine as part of an exhibition in the Museum für historische Bürotechnik Naunhof (Museum of Historical Office Technology in Naunhof) - website. The machine was apparently made in 1969 and is serial number 32549. Close examination of Rüdiger's photo shows it is the same build version machine as we have in our collection, which is serial numbered 32612 and also from 1969, this brings the number of Soemtron ETR224 machines currently known to exist to four.
---

Thüringer Allgemeine article
English translation here
Click an image for a larger version
May 2010 – We make the local press in Sömmerda. An article dated 15/05/2010 in the Thüringer Allgemeine's Sömmerda press describes several trips to Sömmerda after contacting the Historisch–technische Museum, our interest in the Soemtron machines, on obtaining vital connectors, and finding an ETR224. We have now received a scan of the article as printed in the paper - pdf copy here - which shows Bernard (at left) and Mike during the September 2009 visit. There are a few very minor errors in the article, but we are very glad to have made the local Sömmerda press! The original article is no longer on–line.
The Historisch–technische Museum's new technical archive building in the Uhlandstraße is very close to completion and will soon feature all of the BWS Sömmerda machines and documentation that have been in storage for so long, including several examples of the Soemtron ETR range of calculators. The almost complete archive was recently opened to the public for one day as part of the International Museum Day[1] campaign.
In another trip made by Bernard to Sömmerda, a book entitled "BWS Sömmerda", written by Annegret Schüle (ISBN 39-0839-311-9), was found. Photos from the book show the ETR220 production line and test equipment and after a little research we found the copyright owner and now have permission to show the pictures, they are in the main Gallery page. We also picked up an ETR220 for use as spare parts and a small supply of the rare Daro20 and Daro32 connectors.
---

Typical connectors
February 2010 – Following the great help visitors to this site have given in the past, we are now looking for some connectors - so can you help? The photo (right) shows a typical set of connectors used on the Soemtron calculators in 32, 20 and 11 pin sizes of both male and female types. The main body of these connectors would appear to be ceramic, although the black link plug (2nd from the top in the photo) is a plastic material. The 1.0mm diameter pins are on a staggered three row 3.0mm pitch format, and they "float" in the connector housing allowing for a small amount of miss–alignment on insertion. Daro20 plug mechanical drawing. Text on the side of the connector body is - Logo, (manufacturer?), quality standard 1, 3 amp, Silver (plated), ?
These connectors were apparently a special standard to the Robotron brand, with cable connectors available in both plug and socket versions (photos listed as the "Daro20" and "Daro32" connectors). We think however, that this connector style may have been available elsewhere, as we have seen similar connectors used in the British MOD on electronic systems, where they had sheet metal back shells with a floating external cable clamp (Pye or Plessey comes to mind?). A few years ago there were articles on the web about the 40th anniversary of the invention of the mouse by Doug Engelbart, which used the same style of connector, see this page at Tech-E-Blog.
If you have any further historical information, circuits, drawings, photographs, data or manuals about the Soemtron ETR220, 221, 222 and 224 or their manufacture, test equipment (Prüfgeräte) or you just know more about the Soemtron companies in general then please let us know, contact us.
---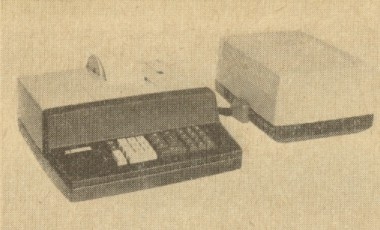 Soemtron ETR221
©2009 Serge Devidts
Click image for a larger version
December 2009 – After some research by Bernard Green and ourselves, about the existence of an ETR221 unit, an email from Serge Devidts has confirmed that at some time in the past of a two part printing calculator, the ETR221 was about. Bernard had suggested existence of the 221 a while back having said that he recollected a unit had been shipped into the UK whilst he was at Office and Electronic Machines Ltd. (OEM Ltd.)[2] in London. He described the 221 as a two part machine: a desktop unit with keyboard and top mounted printer, and a second unit connected by an umbilical cable to the main electronics section.
The only reference to this split personality machine was a vague picture in the Büromaschinen Lexikon for 1967-68, however the receipt of Serge's picture (right) has shown both sections of a 221 connected by an umbilical cable and large connector.
---

Keyboard microswitches
©2009 Serge Devidts
Click image for a larger version
October 2009 – After a bit of searching Bernard Green has found an old supply of keyboard switches at Febana[3], in Sömmerda, sadly not one of the few places we thought to visit during our trip, maybe next time. They turned up in the post just the other day, so we now have the bits to repair the keyboard on our ETR222 and leave us with a few spares. Many thanks to Febana for sending them over.
If you have any information about these switches, or have any more history or information about the Soemtron brand, the ETR220, 222, or rare 224, or the very rare 221 machine, or you just know more about the Soemtron companies in general then please let us know, contact us.
---
September 2009 – we drove out to Germany to pay a visit to the Historisch–technische Museum in Sömmerda to see the museum and meet with museum volunteers and a few ex-workers from the Soemtron factory. See the ETR224 and Sömmerda 2009 trip pages for further information.
---
August 2009 – Translation of the Russian manual completed - the latest version - (#25,10.8Mb pdf). This manual has been reproduced from a 1972 Russian publication, we recognise the copyright of the original publisher.
---
July 2009 – A small milestone! - over one hundred pages of the Russian manual have been completed! - actually 170 out of a total of 214, so a little more work to do. You can read the current version - (#25,10.8Mb pdf). This manual has been reproduced from a 1972 Russian publication, we recognise the copyright of the original publisher. There are a dozen or so words in the translation that are not recognised by the translation software no matter how much we tweak them, so if there are any Russian linguists or speakers out there - can you help? In the translated pdf file the words are bold in red between square brackets. - E.g. [word]. Any help is much appreciated and will be credited on site.
---

Keyboard microswitches
©2009 Serge Devidts
Click image for a larger version
June 2009 – We are looking for a supplier of the keyboard microswitches used in the Soemtron ETR22x series of calculators, said to be V23[4] microswitch? One of our machines, the 222, has several broken keyboard switches, which because of the connection arrangement, renders the machine unusable. They may be of German origin, they have the triangle 1 quality mark, are rated at "220V~2,5A", and a "C2"mark. The manufacturer's logo is an inverted V in a circle.
We have designed an alternative drop in replacement which would retain the old switch body and use a V3 style microswitch in place of the contacts, but as this means some delicate machining and wiring we would like to find the correct or compatible parts first. A mechanical drawing.
If you have any information about these switches please contact us, or email us .
(Update October 2009), following our visit to the Historisch–technische Museum in Sömmerda, we have managed to contact a supplier and obtain a small quantity of used but functional switches.
---
May 2009 – Full time work on the Soemtron ETR220 has not resumed yet, but we have started on that Russian manual received from Gerhard Just back in July of last year. Some time was spent searching the web for a decent OCR program for Cyrillic characters and eventually we found one that does a very good job, so we have started on this bit of the project.
---
March 2009 – Due to other pressing matters (we have to work!), work on our Soemtron ETR220 was suspended in January but is expected to resume in April/May. This is a bit of a shame as we had just got to the interesting bits, examining signals and relating them back to the circuits, never mind, we will be back soon. Meanwhile if you come across any other snippets of information about the Soemtron ETR220 / 222 /224 machines please let us know.
---
February 2009 –
23/2/2009 - Rüdiger Kurth finds a Soemtron ETR224 in the archive of a Sömmerda museum, at this time this is the only known Soemtron ETR224 in existence!
19/2/2009 - Information on the ETR224 page updated with an email reply about the printing mechanism from the Historisch–technische Museum at Sömmerda.
---
January 2009 –
Firstly - a Happy New Year to all, we hope you had a good Christmas break.
Next - is there a helpful person out there? one who could help us out by translating the Russian Technical Manual received last year. It is online, (10Mb pdf), and whilst we can get the gist of the diagrams, the rest of the document eludes us! It appears to be a full description of the Soemtron ETR220 and its inner workings, and any work on the manual will be credited in full, so, any please! - contact us here.
---
December 2008 –
With the extender board finished and the monitor board now completed, work on expanding the circuits and logic diagrams is progressing well. We have got the shipping damage to the second ETR220 repaired and its now operational, so this machine is the basis for the work on the internal logics of the ETR220, keep an eye on the downloads page as new copies of the drawings will be up-loaded as they are completed.
---
September 2008 –
The Russian Technical Manual received a few weeks ago is now online, (10Mb pdf) or from the normal "Downloads" page. Now we can't read Russian, but this appears to be a full description of the Soemtron ETR220 and its inner workings, including a basic description of the logic elements, their component values, operation and even a timing diagram or two. A multi-page scan of an overall logic diagram is included, (1.4Mb pdf) or again from the Downloads page.
Bernard Green has turned up a bit more information about the Soemtron calculators from the Büromaschinen Lexikon, or the Office Machines Encyclopaedia, published during 1957 to 1986 it was the required publication to be listed in for a calculator manufacturer. The Soemtron ETR220 series machines were included in the B.M.L. from 1962 to 1968, described thus (© 1968-9 Goeller Verlag) –
1966/7 issue - "Both models implement the 4 basic operations of arithmetic and powers. Rounding of the last number with multiplication and division, variable decimal point, 3 free memories with addition and subtraction, memory recall with or without deletion, constants, endaround carry, negative result indication and a fast printer. 15 digit display, printing to 18 characters with decimal point and symbols. Keyboard inhibit during overflow. A unit with keyboard and printer but without the arithmetic unit can be connected to a display model as a slave computer."
Cost - Soemtron ETR220 : DM 5800, Soemtron 221 : DM 7500

1967/8 issue - "The Soemtron ETR220 is a display indicator model, with a second variant with keyboard and printer. Both models have the four basic operations of arithmetic and powers. Rounding of the last number with multiplication and division, variable decimal point, three free memories with addition and subtraction, memory recall with or without deletion, constants, endaround carry, negative result indication and a fast printer."
Cost - Model ETR220 with display: DM 5300, price of the printing model: DM 7200
So yet again we have a bit more confusion! a model ETR221, with a printer and that could act as a satellite to a model ETR220. Both of these entries in the Lexicon are dated from before the apparent date of the ETR224 production run (1968–1974), so they may be precursors to and not quite the same as the final ETR224 product. It makes sense to have the first model as an ETR220, and then to have a printing unit as an ETR221, then introduce your next model as the ETR222. Perhaps the ETR221 was dropped and they decided on an ETR220, 222 and 224 sequence - who knows - if YOU do, please let us know.
A couple of small milestones reached with the original Soemtron ETR220 and extender board, both have been finished! The original ETR220 that started this all off is now back together and fully assembled, photos can be seen on the Gallery page, she looks quite good even if we say so ourselves, all the dirt, dust, rust and crud has all gone and without a respray she is as near to original as we can get her. The power supply wiring has been replaced ready for a new power supply when we get down to building one or can find a donor machine. The extender card is also finished and this can also be seen in the Gallery, so we can now start on debugging the second Soemtron ETR220 and also the 222. The next item for the extender is a small signal monitor PCB that we are waiting on delivery from the PCB manufacturer, this will then allow us to monitor up to eight signals and / or flip–flops without resorting to using an oscilloscope.
---
August 2008 –
Work on the extender board is progressing, connector PCB's have been assembled into their mating plug and socket parts and the metalwork is currently being cut ready for assembly. The monitor board design is basically complete and has been bread boarded to check out the op–amp and comparator circuits. A small DC-DC supply circuit remains to be tested but has not yet been completed, once done, the monitor PCB design will be finished and sent for manufacture while the extender is wired up.
Meanwhile we have completed translating the user manual "Electronischer Tischrechner Soemtron ETR220 - Bedienung und Übung" that we found back in February. You can view the current result and the original scans. Please bear with us as German is not our first language and we are using an online translation engine for the basic work, there ARE mistakes! This book is ©1972 Manfred Sperfeld of V.E.B. Counting Machines, Potsdam.
Then there is the Russian manual to do (see below)
---
July 2008 –
Gerhard Just sent us a contact form this month, he has a Russian manual for the Soemtron ETR220 but no machine! He has very helpfully scanned the manual and sent it over for us to look at, it appears to have the same logic diagrams but also some other different information that we have not yet seen. Translating this will probably become yet another project for us to embark on, but not for now, we will just make the pdf's of the scans available in a few week's time. Many thanks to Gerhard for his help!
Rüdiger Kurth has emailed in with kind comments about this site and a bit of information about the Soemtron ETR224. The printer for a ETR224 apparently was a TSD16 and photos of the printer can be found at Rüdiger's website, near the bottom of the page.
Circuit diagrams are now complete - at last! and just about on schedule (from our original prediction of the middle of 2008), any minor modifications to the circuits from the logic diagram generation process will be uploaded as required. Logic diagrams have been started with the diagrams for Boards 11 and 12, each with their respective sections of the Display and Keyboard. They can be found online on the Downloads page. Currently work is progressing on getting an extender card built so that we can start examining the signals on and around the boards and determine actual logic levels. A supply of suitable pins (H2170-01) and sockets (H3194-05) has been received from Harwin and our grateful thanks go to them for their help with this project. We have used their products in the past and can highly recommend them. A PCB for the extender board is currently in manufacture and should be with us soon. The extender board is envisaged to have a small ancillary adjustable LED monitor PCB so that we can examine the state of slow moving and stationary signals, although the design of this circuitry is not yet done. The extender board design will also be available from this website when we have completed it.
---
June 2008 –
Circuits for the original Soemtron ETR220 are almost complete - honest! We have pretty much finished the drawing and checking of the circuits and with only a couple of snagging points for boards 8 & 9 to be completed we have pdf'd the circuits and uploaded them. Any changes for boards 8 & 9 will follow in as we do them. These circuits represent 10 months of work to reverse engineer the boards of our original Soemtron ETR220 and at this time we believe they are as complete as they can be. Over these last few months and especially since Bernard Green sent us the original logic diagrams to check against, we have found that there are several errors in those original German logic diagrams which are mostly down to typos in the net names, the next job is to produce a set of modern logic diagrams using current symbols.
An email from Thomas Richter has helped out with yet some more information about the Soemtron calculators - that being the operation of the top row of three register operand keys. We had them down as being "multiply" keys, they are actually a combined action "Recall" and "Clear" keys. As Thomas says "Pressed once, the value of the appropriate memory is displayed, once again, the memory is deleted". Also Thomas mentions that "pressing Lö does not affect the content of the 3 memories". Many thanks to Thomas for his help and also correcting our German wording for us - oops!
---
May 2008 –
We have at last finished the initial transcription of the circuit boards from our Soemtron ETR220, but that's not the end of the saga! we are now cross checking all the circuits against the logic diagrams sent by Bernard Green, correcting any anomalies. Once this is done we will then update and produce new logic diagrams using modern equivalents, as although supplied with a logic table, most of the original symbols do not conform to the more widely recognized modern equivalents. Then comes the task of designing and building a power supply and getting this original Soemtron ETR220 of our collection working. As you will appreciate a bit more work to be done.
---
April 2008 –
This month we received a partially working Soemtron ETR222 serial number 74005 from an Ebay sale in Germany, quite a rare little beast, although not a rare as a Soemtron ETR224! These 222 units were apparently in production between 1970 and 1972 with only 3203 of them being built. On examining the machine the date stamps would appear to be for 1968, and on closer inspection it seems that most of the boards are labelled with a "224" root part number, a much rarer machine! This Soemtron 222 seems to be a real Chimera as it has boards from all three variants of these machines (Soemtron ETR220, 222 and 224). This 222 is partially working, having a couple of broken keyboard switches which renders it unable to properly calculate due to the series switch connection design of the keyboard, but ultimately quite repairable - we hope!
Now this leaves us with a problem, is this machine actually a Soemtron 222? (outwardly it looks like one and it is marked "Soemtron 222" on the case), a converted ETR224? or a Soemtron 222 with common boards from a ETR224. This little problem is going to take quite a bit of research, but whatever the outcome it seems that the generally accepted information out there on the Web for production run dates of the Soemtrons could be wrong, if this machine is a Soemtron 222. On the other hand it could be a Soemtron ETR224, but where does the printer connect? no extra connectors are in evidence. The Soemtron 222 calculators apparently have seven slightly different functions than that of the Soemtron ETR220 (from the keyboard diagram in the book mentioned below), but it appears to have much more circuitry and logic than a Soemtron ETR220. The display driver and keyboard encoding circuits are moved to another set of extra boards below the keyboard, so making space in the card cage for the two extra logic boards (eleven and twelve) that this machine appears to have. We will eventually investigate this "Soemtron 222" but not until we have finished our fun and games with the original Soemtron ETR220.
---
March 2008 –
Bernard Green who, some years ago was Senior Engineer at Office and Electronic Machines Ltd. (OEM Ltd.) in London UK, who were the importers of the Soemtron calculators from the D.D.R., has helpfully sent us copies of the logic diagrams for the Soemtron ETR220, pdf copies of the diagrams can be found on the ETR220 downloads page, they include component references and values, logic symbols and a diagram for each board. They give an insight into the what the Soemtron logic designers were able to achieve in the functions of the Soemtron ETR220 with such basic, albeit almost primitive electronics then available in the 1960's in the German Democratic Republic. As Bernard states "That sort of design skill is being lost (or has been lost) now that processors with bloatware do so much". Many thanks to Bernard for all the help he has given.
---
February 2008 –
An email from Philipp Maier included another snippet of information about the Soemtron calculators - some of them are marked with a "Quality" symbol on the rear of the chassis, a number in a triangle, with 1 being the best and 3 the lowest. It would appear the first unit we bought missing its case and power supply has a quality mark of 1, whilst the second unit complete and working has no quality marks at all! Comparing the two machines, the second one does seem to have a much worse standard of assembly.
We have been contacted by Bernard Green who some years ago was senior engineer at Office and Electronic Machines Ltd. (OEM Ltd.) in London UK who imported the Soemtron ETR series of calculators from the D.D.R. He has various bits of information about the Soemtron ETR220 and has already passed some of it on to us for incorporation into this website. Watch out for more information to come in the future. Reverse engineering of the boards is progressing, currently at about one a month with other things on the go (like life and work!), Board 7 has just been finished and this also includes a few minor corrections and additions to the Backplane and other circuits.
We have now found and had delivered, a guide to operating the Soemtron ETR220 with some working examples and exercises, some of them quite complex. Printed in 1971 the book is entitled "Electronischer Tischrechner Soemtron ETR220 - Bedienung und Ubung", and as you may have guessed from that it is in German! It will need translating unless we manage to find an English version - so, are there any volunteers able to assist with the translation? Just for now that title in English is - "Soemtron ETR220 Electronic Desk Calculator - Operation and Exercises". From a cursory look through the 63 pages it would seem the Soemtron ETR220 is capable of some very complex calculations, especially from a veteran calculator with only six functions. There is also a small diagram at the back showing the keyboard layout for a Soemtron ETR222, which as far as we can gather did not have the negate entry, or the #n (raise to power) functions.
---
January 2008 –
We have received another Soemtron ETR220 this time from Germany where they still seem to be reasonably common, it has a serial number of 54555. Unfortunately it was damaged in transit and will need repair before we even dare to turn it on, however it does have a complete power supply, so we can use this as a model to replace the power supply on our original unit.
An excellent technical description of a Casio AL–1000 calculator has been found on the web, the Casio AL–1000, which in some respects would appear to be similar to the Soemtron ETR220 and it is hoped that the technical description of the AL–1000 will go a long way in helping us to decode the inner workings of the Soemtron ETR220. Many thanks go to Brent Hilpert for publishing this information and the technical contents of his excellent website.
>
---
---
Site design ©2007– soemtron.org - privacy -